Budapest Waterworks' management presents: undisturbed operation even in crisis
9 May 2020

Interest shown internationally in the crisis management practice of the water utility service provider of Budapest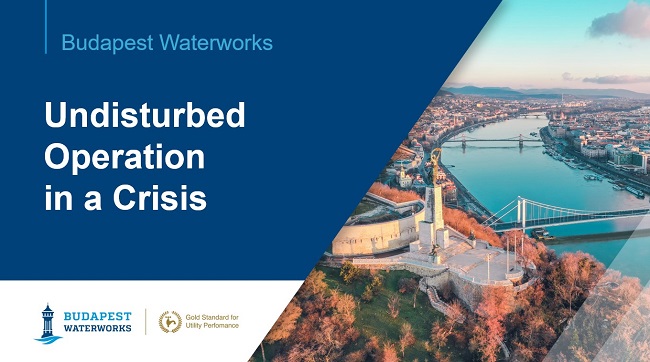 The almost 100 professionals, who joined the live webcast on 28 April, could get insights into the crisis management practice of Budapest Waterworks in an unusual web event that starts a new tradition. Thanks to the extended international connections and the good reputation earned by the company in professional circles, interested participants connected from Serbia through Kosovo and Albania, Saudi-Arabia to Buenos Aires and Colombo – having mayors and water utility leaders as well as commercial attaches from the Hungarian embassies among their ranks.
We are especially honoured that Samantha Yates, Secretary General of Global Water Leaders Group, did not only follow and colour the event raising several questions but afterwards expressed her appreciation for the excellent performance of the management of Budapest Waterworks in a pandemic situation.
Her letter
emphasises that yet again it shows it is not by accident that the company has deserved the right to use the title "Member of the Leading Utilities of the World Network".
The business continuity plan as well as its adaptation to practice during the coronavirus pandemic, as introduced by Ferenc Keszler, CEO, can rightfully expect to become one of the international best practices, and not only to attract a lot of interest, but at the same time to open new business opportunities for the company.
Presenting beside the CEO, the five directors responsible for operations, investments, customer services, IT and international business development gave participants a picture of the measures carried out persistently and successfully since 5 March by the direction of the management of Budapest Waterworks. These measures, besides ensuring uninterrupted and high quality drinking water supply for more than two million people as well as waste water drainage and treatment in the company's supply area, also concentrate on the health and financial security of the colleagues, internal communication and information to customers. In the meantime, the corporate culture has changed significantly with IT solutions which support work, work control and keeping-in-touch among colleagues gaining more prominence.
The success of the webinar is proven by the big number of questions and queries received in the closing part of the one-hour event.
The video recording of the
webinar
is available in our English website.